Event
Veteran's Day at Huntington Opportunity Resource Center
07/14/2017
Anne Buda and Claire Cipolla representing Angels for Warriors at the Huntington Opportunity Resource Center Veteran's Day in Huntington Station.
Cerini & Associates Imagine Awards 2017
05/02/2017
AFW receives the Rising Star Award!
Nassau & Suffolk Veterans 2016 Free Tax Preparation Day
03/11/2017
Saturday, March 11, 2017
10:00am-2:00pm
Nassau County Veterans Center
970 South Broadway, Hicksville NY 11801
For directions call: 516-348-0088
IRS Certified Veterans will be on hand to prepare your return confidentially
Time slots are limited, so please book your appointment as soon as possible---10:00, 11;00, 12:00, & 1:00 (while available)
Appointment Required
To book appointment call: (631) 521-1156
Paula Mucci, AFC®/Financial Coach
Adopt a Veteran Family
12/20/2016
The community rallied together to host 4 Veteran Families in need. Thank you to the Nicklas Family and Friends, American Legion Greenlawn Post 1244, The Huntington Township Chamber of Commerce Young Professionals Committee, Denise Harris's Our Lady Queen of Martyr Religion Class, and Amanda Cipriano (working towards a Girl Scout badge) for shopping/wrapping and delivering countless gifts. You have certainly helped make Christmas very special this year~
Car Donation! George Kremidas donates his Audi to an AFW SSVF Veteran
10/04/2016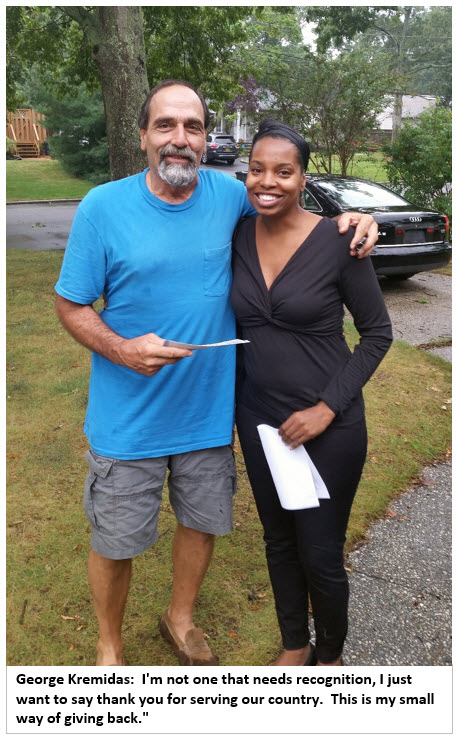 Celebration Honoring Women Veterans
09/28/2016
Backpacks to Veteran Children
08/01/2016
100 backpacks filled with supplies were delivered to the Northport VA for our Veterans' children. Thank you to Effie Hubert, AFW Board of Director, Signature Properties and Kiawanas for all the effort and supplies~
Federal Bar Assoc. Summer Kick Off/ Thurgood Marshall Awards for Excptional Pro Bono Service
06/16/2016
Congratulations Rogerlyn for being nominated to receive this presigious award!
SSVF Program Presentation to local Realtors at the Cold Spring Harbor Waling Museum
05/25/2016
Flag Dedications in Northport Village
05/21/2016
Northport VA Stand Down. Angels for Warriors' Rogerlyn Velez, Allison Stapleton and Anne Buda with Rich Delasso from EOC
05/20/2016
50th Anniversary Celebration of Vietnam Veterans
05/07/2016
TD Bank's "Bring Change" Event
02/12/2016
Be A Warrior's Angel This Christmas!
12/15/2015
Join AFW & adopt a local veteran's family this Christmas. We will have a list of items needed/wanted by this family and will collect all items by Dec. 15. Gift cards are always welcomed! Help thank our veteran for giving so much of themselves for our freedom!
Adopt a Troop 2015
11/30/2015
Once again, AFW will be collecting fun holiday items & necessities to send overseas to a selected troop. All will be wrapped and delivered in time for Christmas!
Click here to learn more.
Northport VA "Celebration Honoring Women Veterans"
11/16/2015
A beautiful day in the garden at the VA in Northport honoring our female warriors.
Angels for Warriors Annual Benefit. Anne Buda, Rogerlyn Velez, Rich Dellasso and Mr. & Mrs. John Rago enjoy the night and celebrate our veterans.
11/09/2015
Thank you for joining us at this year's AFW Benefit! It was a beautiful evening at Mannino's Italian Kitchen & Lounge. We were so humbled by the community support. We continue to grow because of friends like you. And a BIG thank you to Angel, for whom Angels for Warriors was named. Angel's support has been amazing! He gives us the energy to do what we do every day. He continues to get healthier and stronger. We are so happy he was able to join us for the evening~
Macy's Shop for a Cause
08/29/2015
Macy's/Angels for Warriors Shop for a Cause event, August 29, 2015. Please click on the "Shop for a Cause" link on home page and you will be prompted to purchase your $5 on-line savings pass. You can save 25% off regular, sale and clearance items, including home--even save on most brands usually excluded! Also save 10% on electonics/electrics, watches, furniture, mattresses, and rugs/floor coverings.
Angels for Warriors/East Northport Rotary Backpack Donation
08/18/2015
Each year in August, the East Northport Rotary and Angels for Warriors puts together 200 or more children's backpacks filled with supplies to give to our veteran's children. This year, these backpacks were delivered to the OIF, OEF unit at the VA. Special thanks to Effie Huber for organizing this year's distribution!
Stars & Stripes 2015 Ceremony
06/14/2015
Thank you to all that came out for our Stars & Stripes 2015 ceremony and dedication to Joseph Boccia Jr.
Girl Scout Troop Redecorates Media Room at Salvation Army
05/26/2015
Girl Scout Troop 934 recieved their silver award after redecoration & building shelves at the Salvation Army media room. Rogerlyn Cipriano is the Girl Scout leader for Troop 934.
AFW & The Village of Northport Sponsor "Stars & Stripes 2015". Preparing Northport!
05/26/2015
Federal Bar Association hosted and evening honoring our female veterans. We were honored to be celebrating these amazing women!
05/21/2015
Veteran Day of Beauty
05/15/2015
AFW & The Anthony DeFranco Salon & Spa hosted a Military Women Day of Beauty! All the ladies were treated to hair, makeup and nail services. Everyone looked beautiful! Thank you to Anthony DeFranco for such an amazing day~
Huntington Chamber Veterans Committee Meeting on Service Animals
04/22/2015
A special Huntington Chamber Veterans committee meeting was held at The Society of St. Vincent dePaul where service animals and their organizations were highlighted. Each spoke about how their animals are trained and used to help Veterans with PTSD or with Physical impairments. Organizations included Helping Hands, Little Shelter and Horseability.
Suffolk County Dept. of Labor, Licensing & Consumer Affairs Employment Event at Suffolk Community College
04/02/2015
Vets Court Graduation
03/31/2015
Congratulations to the veterans that graduated from Vets court! So happy for them!
Project9Line Veteran's Comedy Night at VFW in Sayville
03/30/2015
BRAVO To our friends Rich Dellasso from EOC and John Rago from Suffolk County United Veterans for their amazing stand up acts!
Veteran's Mental Health Conference at Adelphi Unitversity
03/17/2015
3rd Annual National Veterans Mental Health Conference at Adelphi University. Congratulations to Tom Ronayne, Director of Suffolk County Veterans Service Agency and Frank Amalfitano, President/CEO of United Veterans Beacon House, for their awards recognizing their every day efforts in improving the lives of our Veterans.
Volunteers for Vets
02/11/2015
We were happy to join Suffolk County Bar Assoc. in helping veterans and their families with free legal consultations.
Governor Cuomo's 2015 NY Opportunity Agenda Conference at Farmingdale State College
02/05/2015
Anne Buda & Governor Cuomo at his 2015 NY Opportunity Agenda Conference at Farmingdale College 2/5/2015
Adopt a Troop Program
12/10/2014
Holiday 2014
Adopt a Troop Program!

Please consider a donation towards our Adopt a Troop program. We will be purchasing fun items as well as necessities for our troop, all delivered in time for Christmas.
Click here to learn more.



AFW Annual Benefit
11/14/2014
La Casa Cafe
Crab Meadow Beach, Northport NY
6:30pm - 9:30pm
Live Music, Dinner Buffet, Limited Open Bar, Raffle Prizes
Download and print the Invitation by clicking below:
Annual 2014 Fundraiser Invitation
To purchase tickets online, click here.
United Way and State Farm Donation to Angels for Warriors
11/10/2014
Rogerlyn Velez and Anne Buda receive donation check from United Way and Gerry Dolan State Farm Insurance. Thank you!
VA Employment Event
10/16/2014
VA Stand Down
09/24/2014
Hofstra Clinic
09/16/2014
Stars and Stripes Tribute
06/14/2014
VA Stand Down
05/28/2014
VA Wall of Wars Ceremony
05/23/2014